Monday, July 31, 2000

''Nutty Professor II'' is box office heavyweight
By Dean Goodman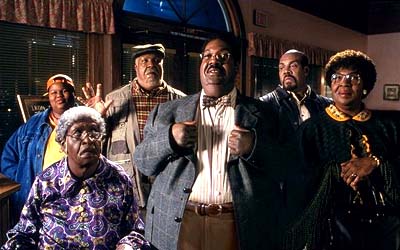 LOS ANGELES (Reuters) - Eddie Murphy scored the best opening of his career Sunday as ``Nutty Professor II: The Klumps'' gobbled up weekend ticket sales of $42.7 million at the North American box office, according to studio estimates issued Sunday.
Last weekend's No. 1, the Harrison Ford-Michelle Pfeiffer thriller ``What Lies Beneath'' (DreamWorks) fell to No. 2 with $22.0 million for the Friday-to-Sunday period, while the superhero ensemble ``X-Men'' (Fox) slipped to No. 3 with $11.5 million.
The top 10 contained one other new release, ``Thomas and the Magic Railroad'' (Destination Films) based on the children's books and TV/video series, which opened at No. 9 with $4.2 million.
Released by Universal Pictures in 3,243 theaters across the United States and Canada, ``Nutty II'' stars Murphy as the mild- mannered title character, Sherman Klump; his horny alter ego, Buddy Love; and four members of the Klump family. Pop singer Janet Jackson plays morbidly obese Sherman's svelte girlfriend.
The plot revolves around Sherman's efforts to drain Buddy from his DNA, but most of the action focuses on the rowdy Klump family and includes digressions into hamster rape and a black dancing baby. Critics generally slammed the PG-13 movie.
The film's 1996 precursor, ``The Nutty Professor'' opened at No. 1 in 1996 with $25.4 million from 2,115 theaters, and ended up with $128.8 million. Universal said ``Nutty II'' becomes Murphy's best opening, surpassing ``Dr. Dolittle,'' which opened to $29 million in June 1998.
The update marks the first No. 1 for Universal since the submarine thriller ``U-571'' ruled the box office for two weeks in April. The studio's other big summer film, ``The Adventures of Rocky and Bullwinkle,'' tanked last month. Universal is owned by Seagram Co. Ltd. (Toronto:VO.TO - news), which is merging with France's Vivendi SA (EAUG.PA).
Universal distribution president Nikki Rocco said ``Nutty II'' skewed slightly to young females, and exit polling indicated the top two reasons for seeing the movie were the comedy and Murphy. ``Women love him,'' Rocco said.
Despite the ``Nutty II'' bow, overall ticket sales ended their four week winning streak. Tracking firm Exhibitor Relations Co. reported the top 12 films grossed $117.6 million, down 7.6 percent from last weekend and down 15.5 percent from the year- ago weekend, when the Julia Roberts-Richard Gere romance ``Runaway Bride'' opened at No. 1 with $35 million.
New releases next weekend include ``Hollow Man,'' an invisible man thriller starring Kevin Bacon; ``Space Cowboys,'' an astronaut saga produced/directed by and starring Clint Eastwood; and ``Coyote Ugly,'' a ``Cocktail''-like female ensemble based in a wild New York bar.
Privately held DreamWorks' ``What Lies Beneath'' has racked up $68.5 million after 10 days, losing just 26 percent of its opening audience. Fox's ``X-Men'' has $121.8 million after 17 days. Its three day sum fell 51 percent. Fox is a unit of Rupert Murdoch's Fox Entertainment Group Inc. (NYSE:FOX - news).
Rounding out the top five were ``Scary Movie'' (Dimension Films), with $8.1 million in its fourth weekend, taking its 24- day total to $131.9 million; and ``The Perfect Storm'' (Warner Bros.) with $7.0 million in its fifth weekend and a 31-day total of $157.6 million. Dimension is a division of Walt Disney Co's (NYSE:DIS - news) Miramax Films unit. Warner Bros. is a unit of Time Warner Inc. (NYSE:TWX - news).
In the milestone department, the eighth-ranked ``The Patriot'' (Columbia) became the ninth release of 2000 to pass the century mark. With a weekend tally of $4.6 million, the Mel Gibson epic has grossed $101 million after 33 days of release. Columbia is a unit of Sony Corp. (6758.T).
Among last weekend's other new releases, ``Pokemon The Movie 2000'' (WB) fell three places to No. 6 with $6.3 million, a massive 68 percent slide in sales. But WB distribution president Dan Fellman predicted it would hold up during the week as mothers take their young children to see the animated adventure. The movie has $33.1 million to date, and should end up with about $50 million -- ``right on the money,'' Fellman added.
The teen romance ``Loser'' (Columbia) fell three places to No. 11 in its second weekend with $2.7 million, a 55 percent drop. It has grossed $12 million to date.
``Thomas and the Magic Railroad,'' which stars Peter Fonda and Mara Wilson in a live action/animated story, has earned $6.6 million since opening in 2,106 theaters on Wednesday. Its $4.2 million three-day weekend tally came in at the lower end of expectations set at $4 million-$6 million, said Barry London, distribution president at privately held Destination Films.
The top 10 movies at the box office
LOS ANGELES (Reuters) - Following are the top 10 movies at the North American box office for the July 28-30 weekend, according to studio estimates collected Sunday by Reuters. Final data will be issued Monday. .
1 (+) Nutty Professor II: The Klumps . $42.7 million
BOX OFFICE SO FAR: $42,700,000
2 (1) What Lies Beneath .............. $22.0 million
BOX OFFICE SO FAR: $68,500,000
3 (2) X-Men .......................... $11.5 million
BOX OFFICE SO FAR: $121,800,000
4 (4) Scary Movie .................... $8.1 million
BOX OFFICE SO FAR: $131,900,000
5 (5) The Perfect Storm .............. $7.0 million
BOX OFFICE SO FAR: $157,600,000
6 (3) Pokemon The Movie 2000 ......... $6.3 million
BOX OFFICE SO FAR: $33,200,000
7 (6) Disney's The Kid ............... $5.1 million
BOX OFFICE SO FAR: $52,000,000
8 (7) The Patriot .................... $4.6 million
BOX OFFICE SO FAR: $101,400,000
9 (+) Thomas and the Magic Railroad .. $4.2 million
BOX OFFICE SO FAR: $6,600,000
10 (9) Chicken Run .................... $3.4 million
BOX OFFICE SO FAR: $92,900,000
NOTE: Last weekend's position in parenthesis. + - new release.
``Nutty Professor II: The Klumps'' is released by Universal Pictures, a unit of Seagram Co. Ltd. (Toronto:VO.TO - news).
``What Lies Beneath'' and ``Chicken Run'' are released by DreamWorks SKG, which is privately held.
``X-Men'' is released by Twentieth Century Fox, a unit of Fox Entertainment Group Inc. (NYSE:FOX - news).
``Scary Movie'' is released by Dimension Films, and ''Disney's The Kid'' by Walt Disney Pictures, both units of Walt Disney Co. (NYSE:DIS - news).
``Pokemon The Movie 2000'' and ``The Perfect Storm'' are released by Warner Bros., a unit of Time Warner Inc. (NYSE:TWX - news).
``The Patriot'' is released by Columbia Pictures, a unit of Sony Corp. (6758.T).
``Thomas and the Magic Railroad'' is released by Destination Films, which is privately held.
JOHN L.: The Summer of 2000 continues to be hot at the box office. Nutty Professor II: The Klumps became the fourth movie to open above $40 million. People have counted Eddie Murphy out several times over the last 20 years going back to "Best Defense," but he keeps working and still is considered one of the most popular actors of all time and on his name alone, can open a movie. Joining the ex Mr. Robinson, is another children's tv show to the big screen romp known as "Thomas and the Magic Railroad" based on those creepy looking Thomas the Tank Engine PBS shows. This one did not open too well and continues the box office losing streak of Alec "My Brother Stephen is more happening than me" Baldwin. Also this week I checked out a DVD of a movie that came out this past December, "Deuce Bigalow: Male Gigolo." I have a lot to say about this Rob Schneider picture and it might surprise you. Lots of stuff to cover once again, so let's get to it.
NUTTY PROFESSOR II: THE KLUMPS - FULL REVIEW
Back in 1996 I attended a taping of "The Tonight Show with Jay Leno." The guests were singer Tori Amos, basketball player from the Seattle Supersonics Gary Payton, and some guy named Edward Murphy. I was so excited to see such a major entertainer like Tori Amos and was ecstatic to hear her sing "Hey Jupiter" live. She is just amazing. While I was waiting for the red haired goddess to perform I had to sit through Eddie Murphy shilling for his new movie, "The Nutty Professor." Murphy had been on the outs with movie fans at that time due to making crap movies like "Vampire in Brooklyn" and "Beverly Hills Cop 3." As most of these talk show appearances go, Murhpy had a clip with him and they showed the scene where the Klump family is eating at the dinner table and farting. Murphy was playing 5 different characters in the same scene. He was Sherman
Klump, his father, his mother, his grandmother, and his brother Ernie. He was encased in this obese makeup that pretty much made him look like a fat Eddie Murphy in drag. All kidding aside, I thought this clip was very funny. I said to myself then and when I eventually saw the movie that "they could do a movie of just the family sitting at the table goofing on each other and it would be a hit." Be careful what you wish for because it might just turn into "The Nutty Professor II: The Klumps." This sequel to the 1996 hit is funny, but it has problems. Let me go over what is good about TNPII:TK and then go into why this movie may have trouble succeeding at the box office. Eddie Murhpy is one of the longest running stars in Hollywood. He has been entertaining the masses since 1981 when he broke out on Saturday Night Live as Buckwheat, Gumby, and my favorite Mr. Robinson. He became a movie star on his first try with "48 Hours," and became a box office deity with Beverly Hills Cop. Back in the day as they say, I was the biggest fan of this guy. I saw every one of his movies, watched SNL reruns, and memorized all of his stand up routines. To this day I still say "goony goo goo," and "Quincy kiss my ass." I don't know what that means, but I always thought it was funny. Heck, I even liked some of his songs like "Party all the time" and "Boogie in Your Butt." I was a true fan because I still think "Golden Child" and "Harlem Nights" are good movies. However, I have been turned off by Murphy's more family oriented comedy. He now has a family with about 4 to 5 kids and wants to make films he can take his kids to. That has given us Dr. Doolittle and "Mulan." These are fine movies, but I still prefer the raunchier Murphy comedy. So, let's look at what he has done here. Murphy shows that he is very talented. He is not the best at changing the voices of the main characters, but they all have separate personalities to make them all seem like different people. The best ones are the mother and grandmother Klumps. It seems like these are 2 different actors when they are on the screen and not Murphy in 30 pounds of makeup. Mama Klump is actually my favorite Klump because of her Hercules and Billy Dee clapping lines. The relationship she has with her husband, Cletus, is the most interesting thing in the movie. Mama Klump was my favorite in the first one and I thought that Murhpy probably could have been the first male actor to get an Oscar nomination for Best Supporting Actress. He also plays the grandmother to perfection and she is just a potty mouthed as she was in the first movie. The character is funny to look at and is hilarious when she is feeding her new boyfriend who could be called the anti-Klump, or when she tries to sexually assault Buddy Love.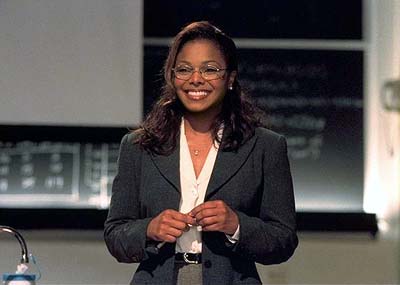 The other part of the movie that is very good is the performance of the returning Larry Miller as Dean Richmond. His character does not do much until near the end when he is attacked by the giant hamster as seen in the preview, but when he starts responding to the aftermath of that attack, it is fall on the floor funny. So, there are 4 good performances in the movie performed by 2 people. Papa and Mama Klump, Grandma Klump, and Dean Richmond are the reasons to check this flick out, but the other characters may make you feel that there is just too much going on that evenutally leads to not that much. Let's start with the main character, Professor Sherman Klump played pretty well by Eddie Murphy. This person is the straight man in the movie with most of the things that happen to him taken fairly seriously. However, whenever he eats or is at a dinner table he is funny. Just walking around as Sherman or trying to romance Janet Jackson, the movie sort of bogs down. The other problem is the makeup. Sherman's chin moves all over his face and looks like it will fall off any second. It is very distracting and causes the audience to forget it is a character and remember that you are looking a Eddie M. doing a Saturday Night Live sketch or his best Weird Al Yankovic or David Lee Roth fat suit impersonation. The other lead is the Buddy Love persona that is the evil version of Sherman. The Love character was fairly funny in part one, but in the sequel he is just annoying since Murphy feels he has to scream and laugh all of his lines. When Buddy is just a voice in Sherman's head causing the Professor to do a Tourrettes Syndrome sufferer impersonation, he is funny. But as soon as Buddy becomes real, it sort of kills the movie. Fortunately, Buddy has little screen time and there is a good payoff when he has his final confrontation with Sherman. A Klump that I wish had more screen time is Ernie the somewhat dumber brother. He is pretty much there to show off the high tech split screen techniques they use to get the Klumps on the screen at the same time. Ernie gets a couple of good lines and sings a bit at the end, but is very underused and was just more suffering Murphy had to go through in the makeup chair. Murphy is very good for what he has to do and I don't think even Jim Carrey could do as much work on one film that Eddie did in this, but it was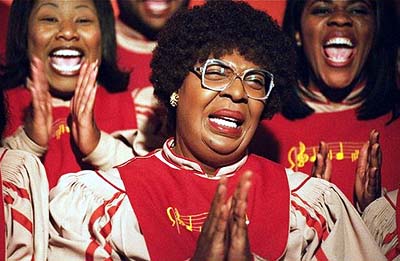 just too much Eddie all the time. He is in almost every scene as one thing or the other. It is funny, but not all of the time. In fact, there is the fat son of Ernie that is played by a real fat kid and he looks weird becasue he is really fat and you keep looking for the fat suit but then you realize he really is that big. Same thing when Murphy is Buddy Love. Seeing all of this makeup on Eddie most of the time and then seeing him as a "Bowfinger" look alike is also distracting. That may be why Buddy Love is not fun to watch. The special effects to get 5 to 6 Murphys on the screen at the same time is very good, but you still see the glow around the actors to mix with the green screens they use to have them touch and cross in front of each other. I know too much about how they do these type of movies and it distracts and upsets me every time when I see things like Grandma Klump trying to kiss Buddy Love and Grandma is glowing like she walked down the streets of Hiroshima in August of 1945. She glows bright enough to light up the room. In fact, the effect is blown since they did not really show them kiss in the shot they were supposed to. There is also a talking baby scene that the preview shows and it is straight out of that Kathleen Turner bomb, "Baby Geniuses." Horribly animated and poorly done in my opinion. Janet Jackson plays the love interest since Jada Pinkett Smith is too busy having sex with Will Smith. She is okay, but she is given absolutely nothing to do except go "what's wrong Sherman?" She does not get one joke to say or not even a pratfall. A sex scene, or some goofy fetish could have helped her character be more interesting, but she is probably the most pointless thing in a film since Jar Jar Binks. What would have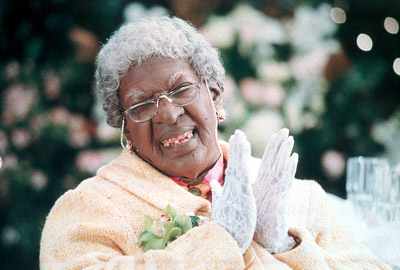 been funny is if Miss Jackson if you're nasty got fat and had to wear a fat suit, but Sherman still liked her. But no, fat guys can get thin girls (or ones with big asses), but fat girls can only be played by Kathy Bates. She is fine for what she was given, but the script did not let her do anything. Overall, believe it or not, I did like the movie. It is funny and will make you laugh. There are some very funny bits that are enough to recommend the film. If you liked the first one, especially the Klump family, you will enjoy this movie. If you try to look for a good plot or a sensible script, then you will be out of luck. If this movie makes over $120 million look for Klumps III: Family Reunion where Murphy will probably play 25 or 30 people. Hopefully they will improve the makeup. I wonder if he gets paid more to play more than one character. Probably not. Final review: 2 1/2 stars out of 5; 5 1/2 out of 10; B-; thumbs up. It's funny, but not the greatest comedy or even the funniest Eddie Murphy film. For those who care, his funniest and best film will always be "Trading Places."
Thomas and the Magic Railroad was made because the TV show and the related products of Thomas the Tank Engine are very profitable. Unfortunately the makers of this film forgot that the age range for this film is between the ages of 2 and 5. Parents, as well as everybody else hate 2 to 5 year olds at the movie theater. They are impossible to control and they have to pee all the time. And if the movie is more than 45 minutes, they want to go home. Watching a video at home is cool since you can pause the tape or rewind or fast forward to your favorite parts. It is perfect for television. But, once you are old enough to go to the movie theater, you are too old to enjoy the Thomas adventures. The only childrens movies that are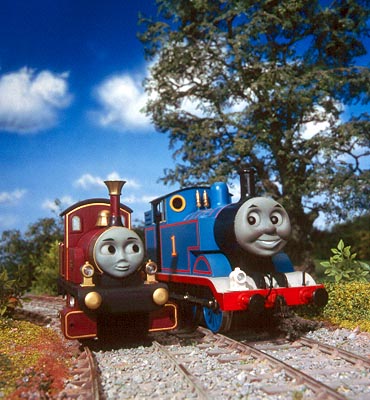 successful at the box office are the ones that most to all ages can sit through or have a large enough older child range like 8 to 12 like the Pokemon or Teenage Mutant Ninja Turtles movies did. Little kid movies that have Barney or even the Teletubbies would never make millions of dollars at the big screen because their demographic age range is too low. But there are some parents that will brave the air conditioning of the local multi-plex and take their 3 and 4 year olds to see their favorite tv show on the silver screen. Since Wednesday, the movie has made over six and a half million dollars but is on track to not get more than about $15 million when it is all said and done. However, the makers should not despair. The video release for this film should do pretty well since the little ones will be able to sit through it then. The thing that concerns me about this movie is how far Peter Fonda and Alec Baldwin have fallen. This will probably be Fonda's biggest hit since... uhh ... since.... hmm let's see, oh yeah there was Ulee's Gold in which he got some acting awards and I believe an Oscar nomination for best actor. He was also in one of the "most important movies of the 1960s" called "Easy Rider." Not to mention the fact that he is the son of Henry Fonda one of the most popular and best known actors in the history of film. Doing a movie like Thomas is not degrading, but it seems that Fonda may be a little desperate since he has not been in a major film since.. holy cow has he been in a major film since Easy Rider? Does Escape from L.A. or Cannonball Run count? As for Alec Baldwin, ever since he turned down doing the sequels to Hunt for Red October, he has been bombing out consistently at the b.o. None of the movies that he has starred in have been successful and the fact that we still know who he is says more about the quality of HFRO than it does about anything after it. It also helps that his brothers still pop up every once in a while, especially Stephen. My suggestion is to catch Baldwin on Comedy Central during one of his stints as a Saturday Night Live host where he gives his best performances. Also, the fact that Baldwin is third choice for Mr. Conductor after Ringo Starr and George Carlin says a lot about how far he has fallen. Stephen Baldwin laughs at his big brother. Actors who are pretty successful that do children's movies like Eddie Murphy in Mulan, or even Jim Carrey in the upcoming Grinch are used to attract a mainstream audience to the picture and increase the box office. Baldwin and Fonda's names are not big enough to entice anyone to sit through the strange animation of Thomas the Tank Engine.
REST OF THE TOP 10 IN 10:
1. What Lies Beneath is holding up very well and should definitely be one of the several movies this year to cross the $100 million mark.
2. Due to the success of the comic book movie, X-Men, Hollywood has put Spider-man on the front burner and are in the process of signing that "Cider House Rules" star, Tobey Maguire in the lead role.
3. Scary Movie has now made more money than either Scream movie made in their initial runs at the box office.
4. In fact, Scary Movie has outgrossed every slasher movie it goofed on except for the regular movies, Blair Witch, Sixth Sense, and The Matrix.
5. The success of the Perfect Storm has me more baffled than any other movie that has been released this year.
6. Pokemon is just like the Thomas movies in that there are not enough people outside of the target audience who are willing to sit through the film.
7. Willis' new movie is not a monster hit, but is doing better than it would have if he was not in "Disney's the Kid."
8. The Patriot fought hard and after a very bloody battle with George Clooney, Marlon Wayans, and Patrick Stewart, has finally crossed the $100 million mark.
9. Chicken Run is going to just make a $100 million.
10. The top 10 movies this week made a lot of money, but somehow did not make more than last year when Julia Roberts' teeth and Heath Donahue's nose hairs dominated the box office.
VIDEO NOSE PICK OF THE WEEK
DEUCE BIGALOW: MALE GIGOLO - FULL REVIEW
Last year a little movie came out called "Deuce Bigalow: Male Gigolo" starring Rob Schneider of "making copies" Saturday Night Live fame. I thought this movie would be a stupid one joke comedy to try to get Mr. Schneider out of the shadow of Adam Sandler. I barely talked about it in my box office report. I had nothing to do this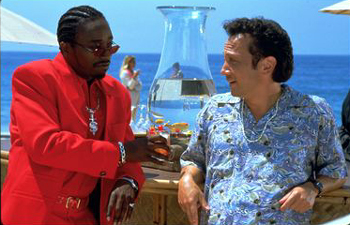 weekend, so I decided to check it out since a few friends had told me it was pretty funny. I sat down and watched the DVD and 90 minutes later I was sitting in my chair in total shock. DB:MG is one damn funny movie. I laughed and bought the entire thing. The movie was about how this aquarium cleaning guy winds up at the house of this "man whore" gigolo. This male prostitute, Antoine, has to go away for 3 weeks and entrusts Schneider to take care of his very expensive tropical fish. He warns him that if anything is damaged in his home, especially his fish, then Schneider is a dead man. Schneider loves this mansion and instantly agrees to take care of the place. Everything is going okay until he destroys the aquarium nearly killing all of the fish. He needs $6000 to repair the damage and has less than 3 weeks to get the cash. So he decides to become the substitute gigolo for Antoine to earn the cash. At this point hilarity ensues. Schneider hooks up with a "male madam" played by Eddie Griffin and gets all of the misfit clients in the local area like the amazon, the transvestite, and the one legged woman. The thing that makes this movie more than the gags is how Schneider's character interacts with the Johns or is it Janes? He helps them get over their handicap so they feel better about themselves. He also falls in love with one of the clients, and she too has a horrible secret she is ashamed of. Along the way, Williiam Forsythe of Dick Tracy Flattop fame plays a cop trying to arrest Schneider and the whole whoring business, but he too is a misfit with a very serious problem. I found this movie funny because it is easy to laugh at the misfortunes of others. This type of humor disturbs and offends many people because they feel that people who are blind, have speech disorders, narcolepsy, or eating disorders should not
be goofed on. I guess they should remain as Lifetime channel tv movies. These people are goofed on relentlessly, but they are eventually shown to be people just trying to be accepted for themselves for better or worse and are no better or worse than the average regular freaks you see and ignore everyday. This movie did pretty well at the box office and I understand why. It is funny and has a heart as well and that always helps solidify a movie's success when there is a sweet side attached. It is not a great comedy because the situations are pretty obvious, but they are done pretty well and as a cheap video rental it is fine entertainment. Adam Sandler was an executive producer on this film and his style of comedy does show throughout and he probably would have played Deuce Bigalow if it was 1997. Schneider is a talent and if he stars in another over the top comedy, it should do well. I found this movie very entertaining. Final review: 3 stars out of 5; 6 1/2 out of 10; B; thumbs up. Not for those who don't like really silly comedies, but is hilarious if you are in the mood.
There are three big movies opening next week. First we have Kevin Bacon and Elizabeth Shue in "Hollow Man" about a guy who becomes psychotic when he becomes invisible. I plan to check this movie out for sure this weekend, but I am becoming leery of it since the preview is very good, but shows way too much of the film, as well as most of it seems to take place in the science complex which may make the film be too confined. The other movie that I might check out is "Coyote Ugly" starring John Goodman and some crazy dancing barmaids. I might see this to see some hot babes giggle as they pour a martini, but this movie looks like a bad DVD night to me. The other movie has the biggest stars in it, but has had very little publicity compared to the other 2 movies. "Space Cowboys" has Clint Eastwood, Tommy Lee Jones, James Garner, and Donald Sutherland as aging astronauts trying to repair some satellite or something. It looks a little too much like the "Armageddon" or "Mission to Mars" in the previews and that is not a good thing. Due to lack of major publicity, it may have a hard time attracting a large audience this weekend. We shall see fans. Bye for now.
ABOUT JOHN L.'S KICKIN' BOX OFFICE REPORTS
THIS WEEK'S BOX OFFICE REPORT LAST WEEK'S BOX OFFICE REPORT
THE BEST AND WORST MOVIES OF 1999
EMAIL: